Superman And Lois Has Set The Stage For Michael Cudlitz's Lex Luthor To Enter The Picture, And It'll Surely Lead To Scorched Earth
I can't wait to see The Walking Dead actor's take on Lex Luthor.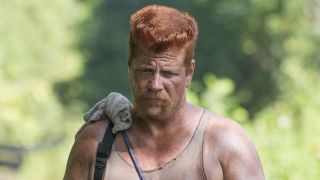 (Image credit: AMC)
Warning: SPOILERS for the Superman & Lois episode "Guess Who's Coming to Dinner" are ahead!
So far in Superman & Lois Season 3, the main threat has been Intergang leader Bruno Mannheim, played by Arrow alum Chad L. Coleman, with his wife Peia, played by Daya Vaidya, providing him some major firepower with her sound-manipulating abilities (talk of adapting Onomatopoeia for the series began in Season 2). But since January, we've known that The Walking Dead alum Michael Cudlitz will be appearing as Lex Luthor, who's already been mentioned numerous times throughout the show's run. Thanks to events that unfolded in "Guess Who's Coming to Dinner," the stage has finally been set for Luthor to enter the picture, and when he does arrive, it'll surely lead to scorched earth.
The reason we haven't seen Cudlitz as Luthor on Superman & Lois is because he's been in prison for almost two decades. However, rather than being incarcerated for some crime or act of terrorism that Superman prevented, "Guess Who's Coming to Dinner" revealed that he was locked behind bars for ordering the murder of crime lord Boss Moxie years back. However, as we saw last week in "Forever and Always," it was actually Peia who killed Moxie, as she'd fallen in love with Bruno and joined him in overthrowing Moxie's criminal empire to seize power for themselves.
Make no mistake, Michael Cudlitz's Lex Luthor is a full-on baddie. Per the official character description, although the public knows him as a "visionary billionaire, but the criminal underworld knows him as "a brutal psychopath who terrorizes anyone he crosses paths with." In this case though, Peia used her unique abilities to imitate Luthor's voice and frame him for Moxie's murder.
Cut to the present day, Clark Kent, Lois Lane and Chrissy Beppo were looking through files on Bruno trying to find rock-solid evidence to incriminate him, and they found the recorded phone call that sent Lex Luthor to jail. While listening to the recording, Clark heard the same buzzing sound from when he faced off against the "sound assassin," so the trio now know that wasn't really Luthor who confessed. In other words, it won't be too much longer until this new information comes to light and Luthor is freed from prison, as was teased in a Superman & Lois promo released a few weeks ago, which you can watch below.
It had previously been shared that Cudlitz's character will look to correct "a personal injustice by enacting revenge on the two people he feels have wronged him — Superman and Lois Lane." However, it stands to reason Luthor will also learn that he was framed by Bruno Mannheim, and as such will use all the resources at his disposal to exact revenge, no matter the cost. That couldn't come at a worse time, as "Guess Who's Coming To Dinner" not only saw Peia being taken into DOD custody after collapsing from using her powers on the Man of Steel and John Henry Irons, but her and Bruno's son, Matteo, is also now aware of his parents' criminal endeavors.
Lex Luthor coming to Superman & Lois will only be bad news for the show's protagonists, but now Bruno Mannheim also has reason to worry. Could this lead to him and Superman partnering up in an "the enemy of my enemy is my friend"-sort of relationship? Possibly, although the promo for next week's episode showed Superman will bring the authorities to Bruno's home, which could sour such an arrangement. Plus, Bruno might have a few aces up his sleeve. Along with next week's promo showing Bruno instruct one of his underlings to wake up Henry Miller, the final seconds of "Guess Who's Coming to Dinner" saw Bizarro Superman, whose corpse was brought into play in "Head On," opening his eyes. With enough superpowers individuals under his thumb, that might give Bruno enough of an edge to deal with both Superman and Luthor.
New episodes of Superman & Lois air Tuesdays at 8 pm ET on The CW. Be sure to keep visiting CinemaBlend for continuing coverage on that show and other programming making up the 2023 TV schedule, as well as updates concerning upcoming DC TV shows. Don't forget the first two seasons of Superman & Lois can be streamed with an HBO Max subscription.
Your Daily Blend of Entertainment News
Connoisseur of Marvel, DC, Star Wars, John Wick, MonsterVerse and Doctor Who lore. He's aware he looks like Harry Potter and Clark Kent.