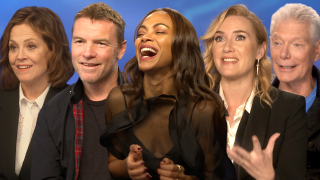 (Image credit: CinemaBlend)
CinemaBlend frequently sits down with the talent who are responsible for the movies, television shows, streaming features, and pop-culture moments that you want to be reading more about. From Tom Hanks to the cast of Avatar: The Way of Water, from the latest contestant on The Masked Singer to the cast of Yellowstone, CinemaBlend ample time for exclusive conversations with Hollywood's biggest stars.
And CinemaBlend prides itself on asking talent the questions that they aren't hearing from every other outlet, leading to passionate answers that are meant to educate and entertain you, our readers. If they are important in Hollywood, they are speaking with CinemaBlend.
Your Daily Blend of Entertainment News
Thank you for signing up to CinemaBlend. You will receive a verification email shortly.
There was a problem. Please refresh the page and try again.