Disney Q2 2023 Earnings Call Live Blog: Bob Iger Talks Disney World's Florida Lawsuit, Disney+, Layoffs, And More
Bob Iger will likely address ongoing battles with Florida and the ongoing Disney layoffs in the quarterly earnings report.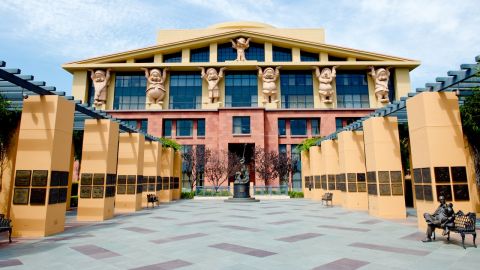 (Image: © The Walt Disney Company)
Refresh
And that's a wrap for the Q2 2023 Earnings Call for The Walt Disney Company. Pretty big news with the upcoming integration of Hulu into Disney+. It will be interesting to see how all that shakes out. For more news on all things Disney, keep reading CinemaBlend.
Final question about Hulu integration into Disney+ compared to having separate apps. Iger says combining them is a benefit for all consumers who have both services. Says success of integrating Star internationally showed the success that Hulu could have.
CFO confirms peak losses for DTC took place in Q4 2022, and the last two quarters have seen improvements. Q3 2023 is expected to see an increase in loses, but not as bad as what happened at the end of 2022.
Question asks Iger how AI may impact business. He jokes he hopes he can use AI to do earnings calls. Says AI is already being put to work in some places, but he thinks it's potentially difficult to manage. The legal team is busy dealing with potential concerns AI could cause.
Question: Could we see major changes to Hulu do to one app experience, which certainly indicated Disney is planning to buy out Hulu from Comcast?
Iger says it hasn't been fully determined what will happen in 2024, but Iger believes that Disney+ combined with "general entertainment" is very attractive to users. He says initial conversations with Comcast have already happened. While Iger doesn't say "Yes, we really want to buy Hulu." It's pretty clear, Iger really wants to buy Hulu.
Question if digital advertising can/will replace linear advertising, and if ESPN could shift to a primarily digital platform. Iger doesn't see ESPN making that change soon. Iger says Disney realized in 2015 that advertising is shifting. Iger is bullish on Disney+ and Hulu and their importance to digital advertising.
Question about how reducing D+ new content will impact subscribers, and how "one app solution" will impact things. Iger doesn't think subscriptions will be impacted at all. Says reducing D+ content allows marketing to focus on more important content, not just D+ but also theatrically.
Next question asks about parks, including Shanghai Disney Resort and how Walt Disney World battle in Florida may impact investors. McCarthy thinks Shanghai is doing "extremely well" considering long term parks closing.
Iger speaks on Florida, says this is about the state retaliating against the company for exercising free speech. Says it's misleading to say that Reedy Creek benefited Disney without including how it benefited Florida. Iger says any changes to the law needs to impact all special districts, not just Disney's.
Question regarding Disney+ price increase, and how it may have impacted subscriber drop. Follow up on overall cost cutting and what they've learned.
Iger says loss of subscribers to ad-free was minimal. Says they need to "widen the delta" between ad-supported and ad-free. Iger is very strong on digital advertising. Expects to meet or exceed $5.5 billion cost cutting Disney has promised to do, but actual savings won't come until next year and beyond.
Shifting to the Q&A portion of the call...
Parks financials were overall very good. Very good at international parks, slightly down domestically. Expectations are that domestic park revenue will be down next quarter compared to previous year, due to not having the 50th anniversary of Walt Disney World like last year, and the increase in costs that will come with the new labor agreement in Florida.
Some content will be removed from streaming platforms as part of attempts to reduce costs, similar to what we've seen from other streaming services. No specifics on which platforms or content.
Iger wraps his portion and we move on to the heavy financial portion of the call with CFO Christine McCarthy. Significant severance charges will be a major cost outlay considering all the layoffs that have happened, and more are still planned.
Iger moves on to Parks: Mentions the end of the reservation system at Walt Disney World in 2024. Disney "closely evaluating" where to invest in the future, which might be a veiled reference to not spending money in Florida, considering the ongoing problems there and the lawsuit.
Iger touts the success of advertising option on Disney+, says an ad-supported tier will come to Europe later this year. Price increase for ad-free Disney+ is planned for later this year.
Iger talks about the reorganization of the company, including cost-cutting, which means layoffs among other things. Iger says the reorg "is working."
Bob Iger starts the call, and does so by congratulating Universal for The Super Mario Bros. Movie box office success. Then touts opening weekend success of Guardians of the Galaxy Vol. 3.
And the Q2 2023 earnings call is underway. Let's Gooooo....
If you'd like a preview of the live-action The Little Mermaid, the complete version of "Part of Your World" is playing as part of the pre-show hold music.
And the audio webcast is now up as we wait for the call to start and it's playing Tron music, which is a nice way to start any event in my opinion.
Quick look at the financials, and I'm not going to bore you with too many numbers, but TWDC revenue was up 13% compared to the same quarter last year. The Media and Entertainment Division saw revenue rise 3%, while operating income was down 42%, which isn't a surprise, as Disney+ is still operating in the red. Parks revenue was up 17% while operating income was up 23%
We're about a half hour out from the earnings call and financial info should drop when the markets close. It will be interesting to see how things shake out. Thousands of layoffs have taken place in the last few weeks but it's unlikely those losses will drastically impact the bottom line in the short term.
The first three months of 2023 were mostly dominated by the continued success of Avatar: The Way of Water, and the release of Ant-Man and the Wasp: Quantumania, which despite it maybe not living up to expectations is still one of the highest-grossing films of the year so far.
On the theme park side, which is highly lucrative for Disney, we saw major attraction openings on both coasts with Mickey and Minnie's Runaway Railway opening at Disneyland and Tron: Lightcycle Run coming to Magic Kingdom. Assuming the parks saw a boost in attendance, the DPEP division should be in very good shape.
It is time once again time for The Walt Disney Company's quarterly earnings report. While the focus of the conference call is always financial, how much the company made or lost over the previous three-month period, it's not uncommon to also pick up tidbits regarding upcoming projects, both on the big screen, Disney+, or the Disney theme parks.
But even from a purely financial perspective, a lot has happened at the House of Mouse over the last three months that is sure to come up on today's call. Two significant rounds of layoffs have hit all corners of Disney, and a third is on the way. And let's not forget that Walt Disney World has filed a lawsuit against the state of Florida. It seems all but certain that these topics, and several others, will be brought up during today's call.
Follow along right here, to get all the news from the Q3 2023 Earnings Call as it happens...
Your Daily Blend of Entertainment News
Thank you for signing up to CinemaBlend. You will receive a verification email shortly.
There was a problem. Please refresh the page and try again.