Tucker Carlson's Legal Team Accuses Fox News Of Fraud As He Announces Next Show Is Heading To Twitter
A lot has happened in the aftermath of Tucker Carlson's firing.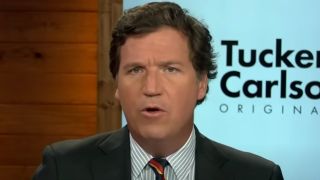 (Image credit: Fox News)
The news media landscape experienced a major shake-up in April when it was announced that Tucker Carlson was dismissed from Fox News after nearly 14 years with the network. After the news broke, speculation quickly began to arise in regard to the reason for the conglomerate's decision and what the political pundit himself might do next. When it comes to the latter, we now know for sure that Carlson is planning a new show, one that'll see him move away from the 2023 TV schedule and on to Twitter. Plans seem to be underway for the new production but, in the meantime, his legal team is accusing Fox of fraud.
His legal team reportedly sent a letter to the news conglomerate before the 53-year-old media personality announced his upcoming show, according to Axios. The conflict specifically revolves around Tucker Carlson's contract with the company, which he's reportedly still being held to. Said agreement, which runs through January 2025, includes a non-compete provision that would prevent him from starting another gig. As part of the deal, Carlson will also continue to be paid by his former employers.
However, reports indicate that the Fox & Friends alum is frustrated with this arrangement. In the letter sent to network bigwigs, attorney Bryan Freedman argues that they reneged on promises made to his client and did so "intentionally and with reckless disregard for the truth." With that, the lawyer believes that this situation constitutes fraud. Individuals named in the document include company heads Rupert Murdoch, Viet Dinh and Irena Briganti, with others being referenced indirectly. Freedman further asserts that the conservative firebrand's non-compete clause is no longer valid. It should be noted the new Twitter show would theoretically breach said contract.
More on Tucker Carlson's Firing
Sean Hannity And Fox News Alum Megyn Kelly Open Up About Tucker Carlson's Firing
Though the company has not provided a formal reason for Tucker Carlson's termination, sources have provided alleged details on that front. Some claim that his coverage of the January 6 U.S. Capitol insurrection factored in. More recently, his firing was attributed to leaked DMs that purportedly belong to Carlson. The messages convey sentiments that apparently criticize his former network and convey racist views. On that note, via the letter, Bryan Freedman also says Fox disregarded an agreement not to leak any of Carlson's personal communications.
The attorney further claims the corporation made a promise not to settle its case with Dominion Voting Systems in a way that insinuates there was "wrongdoing" on the Daily Caller alum's part. A spokesperson for Fox News has since denied that he was let go because of the case, calling said assumption "categorically false."
When Tucker Carlson broke his silence after his firing, he made note of "unbelievably stupid" TV debates while also imploring his fans to "step outside the noise." He was rumored to have had a number of offers before he decided to start up his new show. Early on, it was said that Newsmax wanted to offer him a lot of cash for his services. Carlson ultimately confirmed his new show via a message shared this week, which you can see below:
Fox News, meanwhile, seems to be dealing with ratings issues in the aftermath of the high-profile ousting. There does seem to be a silver lining, however, as the decision is apparently helping the network financially. Now that its former polarizing pundit is no longer in his primetime slot, a number of major companies are now looking to advertise during that programming period again.
Of course, we'll still have to see how things play out in regard to the company's legal situation with Tucker Carlson. Bryan Freedman and co. seem to feel as though they have a strong case. Whichever way things pan out, it'll likely help determine the future of Carlson's new Twitter gig.
Your Daily Blend of Entertainment News
Covering superheroes, sci-fi, comedy, and almost anything else in film and TV. I eat more pizza than the Teenage Mutant Ninja Turtles.