Ex-WWE Star Aron Stevens Reflects On His Big Mizdow WrestleMania Moment And Why He Ultimately Walked Away
A zen moment in the wrestling ring.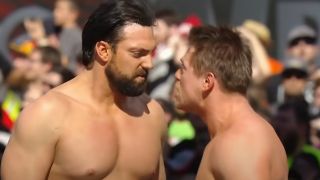 (Image credit: WWE)
In the leadup to WrestleMania 31, there were few WWE superstars as hot as Damien Mizdow, the wrestler formely known as Damien Sandow, who found a way to get over despite being treated as nothing more than a comedy act. After months of being The Miz's stunt double, Mizdow finally turned on the "Hollywood A-Lister" and eliminated him from the Andre the Giant Memorial Battle Royal, creating one of the most iconic WrestleMania moments in recent memory and turning one of WWE's strangest characters into a massive fan-favorite.
CinemaBlend recently sat down with the former Money in the Bank winner, who now goes by the name Aron Stevens in NWA, in a conversation tackling everything from his time in WWE to what's next for his career. And during that chat, Stevens revealed how he felt after turning on The Miz and finally standing up for himself:
Mizdow would go on to be eliminated by former WWE super-heavyweight Big Show in a decision that still makes no sense nearly a decade later. And that decision by the powers that be at WWE to not strike while the iron was hot and pour gasoline on the fire was one the reasons Stevens would walk away from the company a little more than a year later:
Though things didn't work out the way Stevens, or his fans, may have wanted, he doesn't hold anything against WWE or anyone with the company, saying "it is what it is."
In the years following his 2016 WWE departure, Stevens worked for promotions like TNA/Impact Wrestling, Global Force Wrestling, Battle Arts Academy, and multiple other companies on the indie circuit before finding his way to his current home, NWA, where he manages the Blunt Force Trauma tag team. And Stevens credits his continued success in the pro wrestling industry to his history of always giving it his all despite what was thrown at him:
So, what's next for Aron Stevens? While he doesn't want to rule anything out about a possible in-ring return somewhere down the road, he is having a really good time being a manager right now, describing it as "like going down a new path."
But in the more immediate future, Stevens hopes to see Blunt Force Trauma qualify for the upcoming Jim Crockett Sr. Memorial Cup Tag Team Tournament, which is scheduled to take place in Winston-Salem, North Carolina, on June 3rd and 4th. Over the years, the prestigious tournament has been won by the likes of The Road Warriors, Sting and Lex Luger, and most recently by The Briscoe Brothers.
If you want to see Aron Stevens, Blunt Force Trauma, and other wrestlers like the rejuvenated Chris Adonis in action, check out the NWA YouTube channel for free weekly shows and exclusive clips. You can also go back and watch WrestleMania 31, as well as all the upcoming WWE events, with a Peacock Premium subscription if you want to watch Damien Mizdow turn on The Miz like it's March 2015 all over again.
Your Daily Blend of Entertainment News
Philip grew up in Louisiana (not New Orleans) before moving to St. Louis after graduating from Louisiana State University-Shreveport. When he's not writing about movies or television, Philip can be found being chased by his three kids, telling his dogs to stop barking at the mailman, or yelling about professional wrestling to his wife. If the stars properly align, he will talk about For Love Of The Game being the best baseball movie of all time.