The Masked Singer Season 9 Eliminations
This should be an exciting season!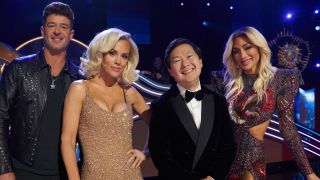 (Image credit: Fox)
The Masked Singer Season 9 is underway, which means another season of disguised celebrities competing to out-sing all the others. Most will fail, and only one will be crowned champion, but that's really only part of the fun for viewers. The real fun is figuring out who is beneath the mask, and this season is shaping up to be one of the best yet.
For those who missed an episode, or just need a reminder of who was unmasked in a previous episode, look no further. Here's who we've seen so far on the series, and the identities of the celebrities sent home on The Masked Singer Season 9.
Gnome: Dick Van Dyke
The Gnome wheeled onstage with the help of the men in black and joked in his clue package he was a celebrity that has literally done it all. Gnome had the crowd moving with his rendition of Billie Holiday's "When You're Smiling," though the judges were sure they had a read on who it was pretty quick. Clues for the Gnome included Dustin Hoffman and Robert De Niro, and while both of those men are icons, that wasn't who was underneath the mask.
Gnome was the first entrant sent home on The Masked Singer Season 9 and was unmasked to be a pretty notable Hollywood star. Actor, entertainer, and comedian Dick Van Dyke was sent home. The actor recently celebrated his 97th birthday, so I'm a bit relieved he didn't have to hang out in a hot costume any longer than one episode. This may be in contention for one of the more shocking reveals of the show, and certainly as one of the biggest of the season.
Mustang: Sara Evans
After a clue package that included clues regarding surviving death multiple times, Mustang kicked off The Masked Singer Season 9 with a performance of "Here I Go Again" By Whitesnake. The judges almost immediately decided that Mustang was a surefire singing talent and guessed she could be singer P!nk, actress Suzanne Somers, and singer Chrissie Hynde.
Mustang gave it all in The Masked Singer's first battle royale of Season 9 but ultimately couldn't cut it against Medusa. She was unmasked and revealed to be country music star Sara Evans. Evans put up a great effort against Medusa, and it was a close match, but ultimately she was sent home.
Rock Lobster: Howie Mandel
Rock Lobster's costume is certainly in contention for one of the best costumes in The Masked Singer's history, His singing, unfortunately, wasn't quite up to par. Rock Lobster was given a quick exit after his performance of Abba's "S.O.S." The singing was bad, but the performance was very entertaining and funny. So, was it any surprise that it was comedian Howie Mandel underneath the mask? At least the panel let him finish the performance, because there's no way he would've made it without being buzzed off stage on America's Got Talent.
Night Owl
Night Owl was a chart-topper at the age of 17, and it was clear she had some talent based on her opening performance of Abba's "Fernando." She crushed it and advanced to the next round, which was especially impressive given she only had 24 hours' notice before appearing on the show. Unfortunately, Night Owl was unable to best Medusa in the battle round and was unmasked and revealed to be singer/songwriter Debbie Gibson.
Polar Bear: Grandmaster Flash
Polar Bear gave it his all on The Masked Singer performing "Rapture" by Blondie, but unfortunately, there wasn't much for him to give. He was a rather quick and decisive elimination in the singing competition and after some help removing his mask, he was revealed to be Grandmaster Flash. He might not be the most talented singer, but his skills on the turntables are unmatched. If there's a spinoff called The Masked DJ, they should ring him up.
The Wolf: Michael Bolton
The Wolf exploded out of the gate on The Masked Singer with a fiery performance of "Break On Through" by The Doors, though he ended up falling short in his competition. It's really saying something about the talent of his competitors for sure, as Wolf was unmasked and revealed to be iconic love song singer Michael Bolton. I would've expected Bolton to go further, and perhaps he would've had he chosen a ballad of some kind.
The Squirrel: Malin Åkerman
Squirrel went "nuts" on The Masked Singer with her cover of "Try" by Pink, and she definitely sounded like someone who would be around at the end of the competition. She had the power to go far in the competition, and the panel was swinging for the fences with their guesses. Margot Robbie and Uma Thurman were the panel's guesses in her debut but were off the mark. Jenny McCarthy figured it out by the second episode, however, and her suspicions were confirmed when actress Malin Åkerman appeared underneath Squirrel's mask.
The Jackalope: LeLe Pons
Jackalope arrived on the stage of The Masked Singer, in what might be the first time we've seen a rabbit with antlers on network television since the classic era of America's Funniest People. Jackalope gave her best effort on Shakira's "Whenever, Wherever," but wasn't able to make it to the next round. The mask came off and revealed YouTuber and influencer LeLe Pons! Nicole Scherzinger knew who it was from the jump, and maybe convinced the rest of the panel to follow her as well.
The Fairy: Holly Robinson Peete
The Fairy may have had a dainty appearance, but her smooth and sultry voice made her a strong contender. Her wonderful take on Linda Ronstadt's "You're No Good" brought the house down, and helped her get one step closer to the semifinals with a win on her debut night. The panel guessed Fairy is potentially Tracee Ellis Ross or Angelina Jolie and are really leaning on the "nepo baby" clue. Fairy was eliminated on "Country Night' and was unmasked and revealed to be actress Holly Robinson Peete.
The Axolotl: Alexa Bliss
The Axolotl decided to pay homage to a former winner of The Masked Singer, and kicked off her performance on "Country Night" with Leann Rimes' "Can't Fight The Moonlight." Axolotl might've tipped off the panel a little too much with her first performance, as Jenny McCarthy wasn't fooled in the slightest when the contestant was eliminated and revealed to be WWE superstar Alexa Bliss.
The Moose: George Wendt
The Moose took the stage with a toned-down performance, which is to say he wasn't moving around a lot as he performed Huey Lewis & The News' "The Power of Love." That's usually a giveaway for the panel that there's an older contestant underneath the mask, which encouraged guesses like Jon Lovitz and Ed O'Neill. When the mask came off, it turned out to be the famous Cheers star and actor George Wendt, which was quite a surprise!
The Scorpio: Christine Quinn
Scorpio strutted out in a golden ensemble that's among the best outfits we've seen this season. The Masked Singer contestant gave it her all with a performance of Cyndi Lauper's "Girls Just Want To Have Fun," but wasn't able to fool the panel into thinking she was a professional singer. Robin Thicke sniffed out the identity of the celebrity immediately thanks to some housing-related clues, and we saw that Scorpio was none other than Christine Quinn from Netflix's Selling Sunset.
The Doll: Dee Snyder
The Doll made Nick Cannon look small on The Masked Singer stage, which is really saying something. This tall contestant belted out their take on Simple Minds' "Don't You (Forget About Me)." The panel threw out guesses of Gene Simmons, Sebastian Bach, and a member of Motley Crüe. The Doll survived their first outing as the night's winner, but was unmasked the following episode and revealed to be rocker Dee Snyder.
Dandelion: Alicia Witt
Dandelion had a strong showing that helped her breeze through her debut episode of The Masked Singer, but her luck ran out just ahead of the semifinals. Dandelion ultimately fell to UFO and Lamp and was unmasked and revealed to be actress Alicia Witt. In addition to her acting, Witt has made a transition to music, and as we saw in the episodes, is worth checking out when she's out of the mask.
Lamp: Melissa Joan Hart
The Lamp shone bright on The Masked Singer stage with her take on "Venus" by Bananarama and showed the panel she was worthy of advancing in the competition Unfortunately she fell short, but the audience was nonetheless thrilled to see who she was. It was none other than iconic '90s actress Melissa Joan Hart, who glowed just as much without her mask as she did with it on.
Mantis: Lou Diamond Phillips
Mantis rocked the house with his take on Bob Seger's "Old Time Rock and Roll," and handily secured his position in the second half of the episode. He was unable to topple Dandelion in the battle royale round, but fortunately, the panel had one more ring of the Ding Dong Keep It On bell to keep him alive in the competition. Mantis gave it his all in the next round, but was eliminated first of the remaining contestants. Mantis was unmasked and revealed to be actor Lou Diamond Phillips!
The UFO: Olivia Culpo
The UFO's performance of Coldplay's "Yellow" confirmed that she has what it takes to win this competition, though it's too soon to tell if that will be the case. She managed to make it to the next stage of the competition but fell short in the quarterfinals. UFO was unmasked and revealed to be model Olivia Culpo. A great run by someone not known for their singing!
The Macaw: Unknown
Macaw quickly got the attention of the audience as he spread his wings and sang a beautiful rendition of Tim McGraw's "Live Like You Were Dying." Guesses were all over the place for Macaw from the panel, who guessed everyone from actor Elijah Wood to Doug Robb, lead singer of Hoobastank. Macaw advanced to the next episode of The Masked Singer, so we'll all just have to wait and see who this is.
The Gargoyle: Keenan Allen
The Gargoyle stunned The Masked Singer panel when he kicked off his inaugural episode with Charlie Puth's "One Call Away." The panel's guesses included NFL stars Antonio Gates and Odell Beckham Jr. Gargoyle was eliminated after a fierce showdown with Squirrel, but the Ding Dong Keep It On" bell ensured he advanced to the next round. Unfortunately, his journey came to an end just ahead of the quarterfinals, and he was unmasked and revealed to be Los Angeles Chargers wide receiver Keenan Allen.
California Roll: Pentatonix
California Roll strolled out on stage with a heaping helping of contestants and belted out an impressive performance of Lady Gaga's "Paparazzi." They pulled off a stunning upset about Medusa, but it would be Medusa who got the last laugh when they faced off again with Macaw in the semi-finals. The competitors were eliminated and revealed to be the singers from the acapella music group Pentatonix!
Medusa: Unknown
Medusa strutted out on stage with a contender for one of the wildest costumes of The Masked Singer so far, which left a strong impression on its own. Medusa rocked the house with her rendition of "Happier Than Ever" by Billie Eilish and had the panel on its feet. Guesses for Medusa included Meghan Markle, Dua Lipa, and Lorde. Medusa breezed through the second episode but was finally taken down by California Roll in "New York Week." Fortunately, The Masked Singer panel used the "Ding Dong Keep It On" bell to keep her hopes alive in the competition, so she'll live to see another day.
Who Won The Masked Singer Season 8?
The Masked Singer Season 8 was fiercely competitive with a lot of surprising reveals. It was a season that showcased celebrities from Chris Kirkpatrick to Jerry Springer, but only one could reign supreme. Actress Amber Riley ended up taking home the golden mask trophy, so don't guess her as an entrant this season!
The Masked Singer airs on Fox on Wednesdays at 8:00 p.m. ET. Those with a Hulu subscription can follow along with the series on streaming and be ready for a season full of fun and some questionable guesses from Ken Jeong.
Your Daily Blend of Entertainment News
Mick likes good television, but also reality television. He grew up on Star Wars, DC, Marvel, and pro wrestling and loves to discuss and dissect most of it. He's been writing online for over a decade and never dreamed he'd be in the position he is today.