Chicago P.D. Season 10: Every Major Jay Halstead And Upstead Update Since Jesse Lee Soffer's Departure
Chicago P.D. said goodbye to Jay Halstead in Season 10 when actor Jesse Lee Soffer left, and here are the important Halstead and Upstead updates since!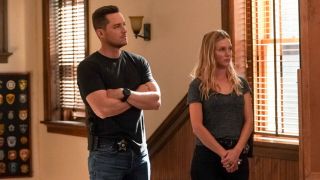 (Image credit: NBC)
Season 10 of Chicago P.D. has been a time of greater change than usual due to the departure of Jesse Lee Soffer as Jay Halstead after nine full seasons as a series regular. While the Intelligence Unit losing its most senior detective was bound to change how investigations went down, Hailey Upton also abruptly lost her husband. He was still alive when he left, but the news since hasn't exactly been good for fans of the character and the Upstead relationship.
So, as the tenth season approaches the finale later in May, let's look at every key Jay Halstead and Upstead update since we last saw Jesse Lee Soffer on Chicago P.D. Given that Upton stayed behind, most of the Halstead updates involve her!
Halstead Leaves Chicago But Plans To Return
The Episode: Season 10, Episode 3 – "A Good Man"
What Happened: Halstead was already spiraling when "A Good Man" began as his final episode (available streaming via Peacock Premium subscription) before the actor left, when a case involving a veteran pushed him to the brink and he realized that he couldn't do his job anymore. He decided to resign from the CPD and return to the army, where he would run a unit doing drug interdiction in Bolivia... without telling his wife, let alone consulting her before deciding to take the job. Upton was blindsided when he told her he was leaving that very same day, but he tried to give a silver lining, saying:
Even though Upton was of course in tears (and eight months from "A Good Man" in early October could have more or less aligned with the season finale in May), Halstead left for the airport, where he said one more goodbye: to Voight, who acknowledged that the former detective is past the point of needing him. Halstead responded that he needs to leave because he wants to be Voight, but he's not and he shouldn't try to be. And with that, Halstead shook Voight's hand and left the Windy City. Whether or not his decision to rejoin the army made sense is up for debate.
Upton Gets Sympathy... But Was Supposed To Bond With Torres
The Episode: Season 10, Episode 4 - "Donde Vives"
The first episode after Halstead's departure didn't actually dwell much on him leaving, aside from some sympathetic looks toward Upton, Burgess saying "I think so" when asked if he's really gone, and Ruzek telling Torres that "It's gonna be real strange around here for a while without Jay," with Torres himself losing his first mentor from Intelligence. That said, according to actor Benjamin Levy Aguilar, there were some "beautiful moments" between Torres and Upton "because there's a commonality there" about missing Halstead, but they were cut from "Donde Vives" for time.
Upton Doesn't Want To Go Home
The Episodes: Season 10, Episode 5 – "Pink Cloud" and Season 10, Episode 7 – "Into The Deep"
"Pink Cloud" showed Upton turn down an invite from Atwater to join him and Jordan for dinner, preferring to work herself to the bone with overtime to avoid going home to an empty apartment. She initially denied to Platt that she was trying to distract herself from her husband's absence, and the horrifying Sean O'Neal case gave her something to obsess over. By "Into The Deep" a couple weeks later with Intelligence running out of time, she was worn down enough to admit to Burgess that she hasn't wanted to go home, and Voight called her out for wanting to "save something too badly," with the obvious implication that it was because of Halstead leaving.
Halstead Isn't Answering The Phone... And Isn't Coming Home
The Episode: Season 10, Episode 12 – "I Can Let You Go"
Upton was finally going home by "I Can Let You Go," but still haunted by the Sean O'Neal case as he kept trying to get her to visit him. Early in the episode, Chicago P.D. showed that she's been trying to get through to Halstead, even though she wasn't sure if he was getting her messages. She wanted to know if he'd gotten a date yet for his return, and dropped an "I love you" after asking him via voicemail to call her when he could. That made it hit all the harder when she finally called his superior officer to get some answers, and found out from him that while Halstead was okay, he requested an extension... again, without talking to his wife about it.
Upton was sobbing by the end of the call (and episode director Gia-Rayne Harris opened up about Tracy Spiridakos' performance). Her final scene with Sean, which involved her shutting down his attempt to form an ongoing informant relationship with her, involved Upton saying that she's "done" because "it's not right" and "not for me," and Sean responded by saying that she was giving her speech "to the wrong person." Once again, an implication that she wasn't handling Halstead's absence well, and a seed of doubt may have been planted.
Upton Takes Off Her Ring
The Episode: Season 10, Episode 20 – "Fight"
Chicago P.D. took a break from updates on what's up with Upstead and Halstead for several episodes, hitting the 200th episode milestone, focusing on Burzek (including some clues for the finale), and giving Atwater an episode that left LaRoyce Hawkins "optimistic" for the rest of the season. The new episode put the spotlight back on Upton, revealing that she's actually been able to speak with Halstead, but he's still not saying when he'll come home.
It was clearly wearing on his wife even as she tried to be supportive, but after going through hell and back over the course of the episode and a talk from Voight, Upton decided to take care of herself for once, and she tearfully removed her wedding ring. She clearly still loves Halstead, so the Upstead story isn't necessarily over, but she finally did what she needed to for herself in "Fight."
Bonus: Jesse Lee Soffer Weighs In
While Halstead hasn't been seen or heard on Chicago P.D. since the third episode of Season 10, Jesse Lee Soffer returned to his old stomping grounds behind the scenes to shadow and direct. He shared with CinemaBlend that there were perks from playing Halstead in his directing debut, and said this when asked how he feels when he's asked if he'll reprise the role:
Now, Soffer said that "it's not on the board right now" in an interview that happened in mid-March, so that doesn't definitively mean that he won't be seen or heard as Halstead before the end of Season 10, or even in Season 11. Chicago P.D. (as well as Chicago Med and Chicago Fire) was renewed for the 2023-2024 TV season. There's certainly no guarantee that fans can look forward to anything more than mentions of the character from time to time, particularly in light of reports that even series regulars will appear less next season.
For now, keep tuning in to NBC on Wednesdays at 10 p.m. ET for new episodes of Chicago P.D., with the Season 10 finale airing on My 24.
Your Daily Blend of Entertainment News
Laura turned a lifelong love of television into a valid reason to write and think about TV on a daily basis. She's not a doctor, lawyer, or detective, but watches a lot of them in primetime. Resident of One Chicago, the galaxy far, far away, and Northeast Ohio. Will not time travel, but will sneak references to The X-Files into daily conversation.