10 Great Movies And Documentaries Highlighting Jewish-American History To Watch
Spielberg, Brooks, Koufax and more!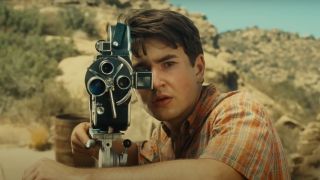 (Image credit: Universal Pictures)
Some of cinema's most visionary filmmakers, writers, and actors have been Jewish-Americans. The same can be said about professional baseball, comedy, politics, and many in the "Greatest Generation," who were all of the Jewish faith or had an upbringing in Judaism. It's hard to imagine life without those great Steven Spielberg movies, Mel Brooks's comedic work, and incredible sports stories like Sandy Koufax's dominance on the mound.
In honor of Jewish-American Heritage Month, we have put together a list of 10 movies and documentaries that highlight the community's history and impact on everything from pop culture to sports, and some of our country's most consequential periods and moments.
The Fabelmans (2022)
Steven Spielberg's semi-autobiographical The Fabelmans follows Sammy Fabelman (modeled after Spielberg himself) as he goes from a young boy growing up in a Jewish family in New Jersey to a young amateur filmmaker in Arizona, to a confused teenager trying to find his place in a predominantly-gentile California high school while coming to terms with a family secret.
The coming-of-age drama is mostly about Sammy, but it also spends a tremendous amount of time exploring Jewish-American culture in the mid-20th Century and how those experiences shaped Spielberg into the filmmaker and man he would become.
Rent/Buy The Fabelmans on Amazon. (opens in new tab)
When Jews Were Funny (2013)
The 2013 documentary, When Jews Were Funny follows documentarian Alan Zweig as he explores the impact of Jewish-American comedians on the entertainment industry over the course of the past century. From the rise of Jewish comedians in the middle part of the past century to modern times, the whole spectrum is covered in great detail.
The documentary tries to figure out if comedians of the previous generations are funnier than current acts, creating an interesting dynamic. Zweig also dives into his personal journey to better understand his Jewish-American culture.
Stream When Jews Were Funny on Tubi.
Rent/Buy When Jews Were Funny on Amazon. (opens in new tab)
Liberty Heights (1999)
In 1999, Barry Levinson released Liberty Heights, a semi-autobiographical drama about a Jewish family living in 1950s Baltimore. Set over the course of a single school year, the movie follows brothers Ben (Ben Foster) and Van Kurtzman (Adrien Brody) as they fall in love with girls from completely different upbringingsm which results in a clash of cultures as they explore life outside of their Jewish-American community.
Similar to what Steven Spielberg would do with The Fabelmans years later, Levinson's portrait of a Jewish-American family in the mid-20th century is an insightful and loving tribute to the filmmaker's upbringing and its complications.
Stream Liberty Heights on Tubi.
Rent/Buy Liberty Heights on Amazon. (opens in new tab)
GI Jews: Jewish Americans In World War II (2018)
There are more documentaries and movies about World War II than pretty much any other military conflict, and another great addition to that list is GI Jews: Jewish Americans in World War II. Released by PBS in 2019, this expansive documentary tells the stories of just some of the 550,000 Jewish-American men and women who served in the war, and the triumphs and tragedies they faced.
In addition to featuring interviews with the likes of Mel Brooks, the late Carl Reiner, and Henry Kissinger, the documentary also serves as a platform for non-famous soldiers and support staff who helped win the Second World War.
Rent/Buy GI Jews: Jewish Americans in World War II on Amazon. (opens in new tab)
Jews And Baseball: An American Love Story (2010)
Those who want to know more about the small yet incredibly successful group of Jewish ball players who made an impact on the sport of baseball should check out Peter Miller's 2010 documentary, Jews and Baseball: An American Love Story.
From stories of Hank Greenberg hitting home runs against Hitler, Sandy Koufax declining to pitch Game 1 of the 1965 World Series because it fell on Yom Kippur (only to come back and be named MVP), and more modern players, this is one of the best baseball movies around.
Stream Jews and Baseball: An American Love Story on Tubi.
Rent/Buy Jews and Baseball: An American Love Story on Amazon. (opens in new tab)
Mel Brooks: Unwrapped (2019)
If you want to know more about the man behind the comedy after watching Mel Brooks movies, there's a documentary that will help you do just that. Released in 2019, Mel Brooks: Unwrapped takes various interviews conducted by the BBC's Alan Yentob over the course of several decades to tell a near-complete story of the showman's life and career.
Unsurprisingly hilarious yet incredibly insightful and full of heart, the documentary offers an unparalleled look at the man, his craft, and the biggest moments of his career. A must for fans, and a great introduction for newcomers, this can't be missed.
Stream Mel Brooks: Unwrapped on HBO Max. (opens in new tab)
The Chosen (1981)
Based on Chaim Potok's novel of the same name, The Chosen follows two Jewish boys as they navigate faith and life in World War II-era Brooklyn. Reuven Malter (Barry Miller), who's part of the Modern Orthodox Jewish movement, and Danny Saunders (Robby Benson), the son of a Hasidic Rebbe, couldn't be any more different from one another, but strike up a powerful friendship regardless of their backgrounds.
Jeremy Kagan's 1981 movie also spends a lot of time discussing the creation of Israel, and how the decision was viewed differently by the different sects, creating a coming-of-age drama and history lesson wrapped up into one picture.
Stream The Chosen on Plex. (opens in new tab)
Billy Crystal: 700 Sundays (2014)
Billy Crystal has been a part of some of the best romantic comedies of all time and several of the most iconic comedies in general, but one of his greatest contributions to the world of performing arts is his one-man show, titled 700 Sundays.
Based on his book and Broadway show of the same name, this 2014 HBO comedy special features all the charm, emotion, and over-the-top characters you'd expect from Crystal. With stories that are both hilarious and heartfelt, this is a wonderful exploration of Jewish family and culture as told by one of the funniest comedians of our time.
Stream Billy Crystal: 700 Sundays on HBO Max. (opens in new tab)
Rent/Buy Billy Crystal: 700 Sundays on Amazon. (opens in new tab)
Brighton Beach Memoirs
Gene Saks' 1986 coming-of-age comedy, Brighton Beach Memoirs, which is based on Neil Simon's semi-autobiographical play of the same name, centers on Eugene Jerome (Jonathan Silverman), a Polish-Jewish American teenager as he comes to terms with life in Great Depression-era Brooklyn.
Unique from similar stories told over the years, Brighton Beach Memoirs breaks the fourth wall as Eugene deals with everything from the onset of puberty to his personal identity during a confusing and trying time.
Rent/Buy Brighton Beach Memoirs on Amazon. (opens in new tab)
An American Tail (1986)
Don Bluth's 1986 animated musical adventure film, An American Tail, follows a family of mice named the Mousekewitzes as they flee their Russian village for a chance at a better life in the United States, one that is supposedly free of anti-semistim (and cats) and will allow them to be themselves.
This epic Jewish parable has gone down as being one of most underrated animated movies of the '80s, and packs a heavy and hearty story in addition to outstanding visuals and an award-winning original song, "Somewhere Out There."
Rent/Buy An American Tail on Amazon. (opens in new tab)
Each of these movies touch on the Jewish-American experience in one way or another, whether they discuss the community's impact on world history or highlight the countless contributions they've made to pop culture.
Your Daily Blend of Entertainment News
Philip grew up in Louisiana (not New Orleans) before moving to St. Louis after graduating from Louisiana State University-Shreveport. When he's not writing about movies or television, Philip can be found being chased by his three kids, telling his dogs to stop barking at the mailman, or yelling about professional wrestling to his wife. If the stars properly align, he will talk about For Love Of The Game being the best baseball movie of all time.