Maxwell Jacob Friedman And Other Jewish Wrestlers Who've Made An Impact
Talk about a distinguished group...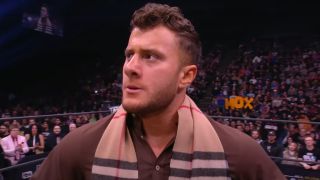 (Image credit: AEW)
Professional wrestling has long been a multicultural affair, with people from all backgrounds, ethnicities, and walks of life rising to the top of the proverbial (and sometimes literal) ladder to reach the heights of the industry. In the past, we've talked about the influential African American wrestlers like the trailblazing Bobo Brazil, some of the memorable Japanese WWE superstars, and numerous other groups. But, one area that hasn't been discussed in the past is the impact of Jewish wrestlers on the sport.
In honor of Jewish American Heritage Month, we have put together a list of wrestlers like AEW World Heavyweight Champion Maxwell Jacob Friedman, Bill Goldberg, and 2023 WWE Hall of Famer Andy Kaufman, who all have made an impact on the sport, in one way or another.
Maxwell Jacob Friedman
Maxwell Jacob Friedman, or MJF for short, is one of the hottest things in professional wrestling, and has been in the top spot at AEW for quite some time. The current AEW World Heavyweight Champion is not only one of the best talkers in the business, and one of the better in-ring performers, he's also one of the most successful and proudest Jewish wrestlers in modern history.
Though he portrays a masterful heel who generates heat better than anyone, MJF is a massive defender of his faith and fellow Jews around the world. In a 2022 interview with The Algemeiner, the wrestler spoke out against his anti-semitism, talked about how he faced prejudice throughout his career, and what it means to make his faith a central part of his character.
Bill Goldberg
Love him or hate him, Bill Goldberg was one of the biggest stars of the late '90s thanks to his incredible presence, that dubious WCW winning streak, and one of the best entrances of all time. The wrestler-turned-actor, who later returned to the squared circle for a WWE run in the past decade, is also one of the most successful Jewish wrestlers of all time, and one of the proudest as well.
During an August 2022 appearance on the Talk is Jericho podcast, the WWE Hall of Famer told former WCW and WWE competitor Chris Jericho that he wanted to "give little kids something to look forward to" when it came to making his Jewish heritage part of his character, and that he was "extremely proud of the decision" he made.
Colt Cabana
There are few wrestlers who have made more of an impact on the industry in the past decade-and-a-half than Colt Cabana. This is quite a claim, but just think about everything the wrestler, podcaster, presenter, and pretty much jack of all trades has done for the sport of professional wrestling in the past decade-and-a-half.
He's wrestled in all the major promotions (even WWE as the borderline offensive name of Scotty Goldman) and worked with wrestlers around the world. His biggest contribution, however, was The Art of Wrestling, a first-of-its-kind wrestling podcast that has featured some of the best interviews in the business, including the infamous appearance by former friend CM Punk months after the "Voice of the Voiceless" left WWE.
Billy Kidman
At the peak of the company's popularity in the late '90s, there were few wrestlers in WCW's Cruiserweight division who were more popular, or successful, than Billy Kidman. During his run with the company, which lasted until it was purchased by the then-WWF in March 2001, Kidman won the Cruiserweight Championship a total of three times and multiple tag team titles with the likes of Rey Mysterio and Konnan, who were also two of his biggest competitors.
Kidman found success at WWE, winning the Cruiserweight belt four more times before leaving the promotion in 2005. He would later return as a WWE producer for the better part of a decade-and-a-half.
Madusa/Alundra Blayze
One of the most impactful female wrestlers in WWE history, Alundra Blayze (or Madusa as she was known in WCW) was a dominant force in the world of professional wrestling throughout the latter part of the 20th Century.
With multiple championships, one of the most iconic moments of the Monday Night Wars was when she dropped the WWF women's titles in the trash can on live TV, and an induction into the WWE Hall of Fame, it's hard to argue against her place in the annals of wrestling history.
Macho Man Randy Savage
Macho Man Randy Savage is in the top tier of iconic WWE superstars, and also one of the greatest Jewish wrestlers of all time. According to a WWE profile honoring the company's history of Jewish wrestlers, it was pointed out that Savage was half-Jewish on his mom's side.
Though he never made his faith part of his character, we'd be remiss not including the two-time WWE Champion and WWE Hall of Famer on this list. There are few wrestlers who branched out of the squared circle and became as recognizable as the Macho Man, and more than a decade after his death, he's still just as legendary and well-known.
Raven
Bill Goldberg and Billy Kidman weren't the only Jewish members of the WCW locker room back in the promotion's heyday, as Raven also grew up with a Jewish background. Throughout his 35-year career, Raven has wrestled for pretty much every major wrestling promotion including WWE, WCW, ECW, TNA, and various others, bringing his unique style, personality, and in-ring presence to millions of fans.
However, Raven revealed during a 2018 interview with Jewish Journal that he wasn't brought up religious, and in fact, he joked that he was one of the only Jews who didn't have a bar mitzvah.
Paul Heyman
Okay, Paul Heyman isn't a wrestler, but he is one of the most prominent figures in professional wrestling, and it's been that way for decades. Whether he was running the Dangerous Alliance faction in WCW, making hardcore memories while running ECW, or being the special counsel for Undisputed WWE Universal Champion Roman Reigns, Heyman has continued to make his mark on the industry.
Heyman's mother was a survivor of the Holocaust, having spent time at the Auschwitz and Bergen Belsen concentration camps before being saved during World War II. When speaking on his mother's remarkable story during a 2009 Slam! Magazine interview, Heyman said that the most influential moment of his life happened 20 years before he was born, "when the British soldiers liberated Bergen Belsen on April 15, 1945," where his mom was captured at the time.
Andy Kaufman
And then there is Andy Kaufman, the comedian and actor who declared himself the "Women's Wrestling Champion of the World" before entering a feud with Jerry "The King" Lawler in the early 1980s. The famous funny man, who many think faked his death, was also brought up in a Jewish household, as noted in a 1999 profile in the Chicago Tribune newspaper.
Want To Know More About Wrestling?
Kaufman, who was inducted into the WWE Hall of Fame in 2023, nearly 30 years after his passing, did as much for the world of professional wrestling as he did for standup comedy and the medium of TV, and his impact can still be felt all these years later.
As you can see, there have been quite a few notable Jewish wrestlers throughout the history of wrestling, and hopefully, you're a little better off having now learned about their impact on the sport.
Your Daily Blend of Entertainment News
Philip grew up in Louisiana (not New Orleans) before moving to St. Louis after graduating from Louisiana State University-Shreveport. When he's not writing about movies or television, Philip can be found being chased by his three kids, telling his dogs to stop barking at the mailman, or yelling about professional wrestling to his wife. If the stars properly align, he will talk about For Love Of The Game being the best baseball movie of all time.