Queen Cleopatra: What To Know Before You Watch The Netflix Docudrama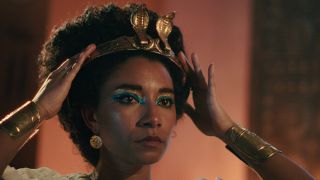 (Image credit: Netflix)
After what seems like months of waiting and controversy surrounding the series, Netflix has finally released the Queen Cleopatra docudrama. The multi-part documentary, which features Jada Pinkett Smith as an executive producer and narrator, follows the multicultural leader as she navigates romance and politics in her quest for power and attempts to hold onto her rule of her people over the course of 21 years.
If you are thinking about checking out the new Netflix series but still haven't decided, stick around because we're about to break down a handful of things you should know before you watch Queen Cleopatra. With a breakdown of its story, presentation, tone, and length, this should help making a decision a little easier. Let's get into it…
Queen Cleopatra Depicts The Rise And Rule Of The Egyptian Ruler
If you are looking for a docudrama series that tells a near-complete story of Cleopatra, the Queen of the Ptolemaic Kingdom of Egypt, then this 2023 Netflix series is going to be right up your alley. Queen Cleopatra takes a deep dive into the rise and rule of the Egyptian ruler, picking up with the death of her father in 51 BC and going all the way through the end of her life 21 years later.
The Docudrama Contains Scripted Scenes And Expert Interviews
Similar to what Netflix has done with several of its other historical documentaries, Queen Cleopatra is presented in the docudrama format. This means you can expect a combination of traditional documentary storytelling with experts providing information about the Egyptian ruler's life and reign. But at the same time, you can also expect to watch extended scripted segments that follow Adele James' portrayal of the historical figure alongside other actors.
The two formats go back and forth throughout the series' duration, creating an informative and engaging experience
Politics And Romance
When it comes to the tone of Queen Cleopatra, you can expect to see a mixture of politics and romance, which are often presented as two concepts married together. Over the course of the series, Cleopatra's strategic romantic and political affiliations with Roman leaders like Julius Caesar and Marc Antony play a crucial role in her story. This continues the dynamic that has been used in Cleopatra's cinematic history of the years, most notably in the 1963 epic starring the late Elizabeth Taylor as the famous ruler and Richard Burton and Rex Harrison as Antony and Caesar, respectively.
The Docudrama Is Split Into Four Chapters
Queen Cleopatra is split into four chapters, each ranging anywhere from 41 to 48 minutes in length, for a total runtime of approximately three hours. Each of these chapters focuses on a different part of her reign, the alliances she forged during those periods, and the issues she faced throughout her rule.
Though the docudrama is longer than most documentaries on the Egyptian ruler, it is still shorter than Elizabeth Taylor's Cleopatra movie, which boasted a runtime of more than four hours.
Queen Cleopatra Is Rated TV-14
It should also be noted that Queen Cleopatra carries a TV-14 rating, which might throw off prospective viewers expecting a straight-forward historical documentary series. But the four-part series contains multiple scenes depicting of sex and violence throughout its duration, and includes mentions of suicide in the final chapter.
Hopefully, this helps you get a better grasp on Queen Cleopatra and what you can expect from the docudrama. But remember, you'll need a Netflix subscription to watch the new show as well as some of the most promising shows on the 2023 TV schedule.
Stream Queen Cleopatra on Netflix. (opens in new tab)
Your Daily Blend of Entertainment News
Philip grew up in Louisiana (not New Orleans) before moving to St. Louis after graduating from Louisiana State University-Shreveport. When he's not writing about movies or television, Philip can be found being chased by his three kids, telling his dogs to stop barking at the mailman, or yelling about professional wrestling to his wife. If the stars properly align, he will talk about For Love Of The Game being the best baseball movie of all time.