'John Wick: Chapter 4' Director Talks Keanu Reeves' Action Movie Pet Peeves & More
Director Chad Stahelski returns!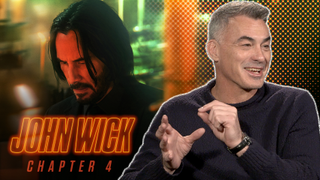 (Image credit: Lionsgate)
John Wick: Chapter 4 is now in theaters, and the director behind the franchise, Chad Stahelski, returns to ReelBlend to discuss. We talk about the fallout of cutting off John Wick's finger leading to over 600 VFX shots, why they decided to make John right-handed even though Keanu Reeves is a lefty, the franchises animal-loving roots, working with the Wachowski's on The Matrix franchise and more.
Also this week, we are joined by Executive Vice President of the National Association of Theater Owners Jackie Brenneman to discuss the outlook of moviegoing in 2023 and beyond.
Stay tuned through the interview for our full review of John Wick: Chapter 4 which might just be our favorite yet.
Timestamps (approx. only)
00:00:00 - Intro
00:04:30 - John Wick: Chapter 4 Director Chad Stahelski Interview
00:41:28 - Shazam! Fury of The Gods' Disappointing Box Office
00:56:36 - NATO Vice President Talks Theatrical Expectations In 2023 And Beyond
01:10:54 - John Wick: Chapter 4 Review
01:23:46 - Our Favorite Action Movie Set Piece
01:35:39 - Outro
Want More ReelBlend?
Sign up for our premium membership, which includes an extra episode a week, a bi-weekly newsletter from Sean, and ad-free episodes. Also, be sure to subscribe to ReelBlend on YouTube for full episodes of the show in video form. Finally, we have all kinds of fun merchandise for dedicated Blenders to flaunt their fandom with pride.
Your Daily Blend of Entertainment News
Video Producer & Podcast Lead
Gabe studied Film & Photography at Webster University. He currently spends his free time looking like a fool trying to play Ice Hockey (a recently acquired hobby), playing video games, and watching every movie starring Dwayne "The Rock" Johnson. Dwayne, if you're reading this...he sends his love.